Three-Day Painting Exhibition Elysian III takes off at the Chandigarh Government Museum and Art Gallery: The three-day exhibition of paintings by eminent artist Anu Singh kick-started at the Government Museum and Art Gallery, Sector 10, Chandigarh.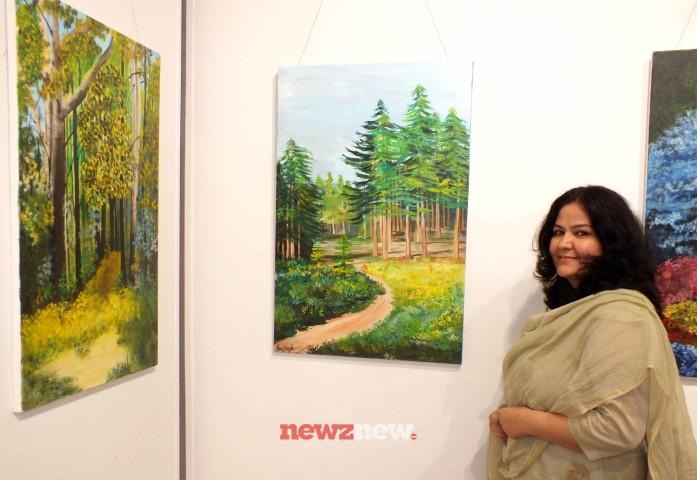 Reckoned to be the 15th edition of her artwork, the exhibition of paintings was titled 'Elysian – III' which paid an ode to the heavenly beauty of nature.
The title of the exhibition, 'Elysian-III' hails its etymology from Greek Mythology that symbolizes a blissful and delightful state. Singh firmly believes that the picturesque landscapes and artwork displayed in the exhibition stands testament to an 'elysian' philosophy that is painted on the canvas.
The Elysian-III art exhibition has in store a wide range of paintings, ranging from the dark woods to the flourishing spring.
While giving the details, Chandigarh based artist, Anu Singh shared, "The marvels of nature is something that never fails to amuse me with its beauty and that is something that inspires all of my paintings because nature is the only thing that we all have in common."
"Every aspect of nature speaks bliss to me and living close to nature always fills my heart and soul with ecstasy that ultimately entices me to put those vivacious colors on my palette," Singh firmly added.
The exhibition witnessed a wide array of inimitable textures and colours of nature on the canvas, ranging from the dark woods to the flourishing spring. These paintings gave the manifestations of nature a versatile texture.
"The paintings displayed in the exhibition are characterized by the dramatic contrasts of nature, whose compliant texture develops naturally while I am painting on the canvas," stated Anu who staunchly believes in the age-old saying that 'art is for art's sake'.
A psychology counselor turned artist, Singh is a proud member of the American Psychology Association, who owes her successful artwork to the unconditional love and support from her family and friends.
"It is certainly the support of my loved ones and my passion to create art, which persuades my imagination to create something marvelous and unique every time I paint the canvas," she shared.
Singh has conducted a countless number of art exhibitions which have been appreciated by art-lovers around the globe.
This three-day art exhibition at the Government Museum and Art Gallery, Sector 10, Chandigarh is on from March 31 to April 2, from 10 am to 5 pm.