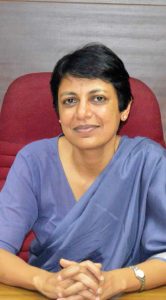 NewZNew (Chandigarh) : Principal Secretary Health and Family Welfare Ms. Vini Mahajan has urged the Vice Chancellors all the private and government universities of Punjab to take appropriate measures in declaring the citadels of learning as Tobacco Free.
In a written communiqué to the Vice Chancellors and the principals of the affiliated colleges, Ms. Mahajan has asked them to implement COTPA firmly to make the educational institutions, university campuses and the affiliated colleges as Tobacco Free. She said that Punjab was the first state in India to ban the sale of loose cigarettes (as single sticks) to dissuade consumers. A notification has also been issued in this regard and directions have been issued to enforce the ban in all districts of the state under the Cigarettes and Other Tobacco Products Act, 2003.
Ms. Vinni Mahajan also said  that the tobacco control cell of the state had been aggressively pursuing the agenda to bring down tobacco consumption in Punjab and banning of loose cigarettes was a step in that direction. She has especially asked the University authorities to keep a periodic check especially on the shops/khokas near these institutions besides checking the small markets within the premises selling tobacco despite complete prohibition. Adding further, she said that Under Section 4 of COTPA, smoking in public places is prohibited & under Section 6 of COTPA, tobacco selling is not allowed within 100 yards of any educational institution. She said that this will go a long way in reducing prevalence of Tobacco in State of Punjab by reducing the age of initiation.
Director General School Education has also been directed to send similar directions to the entire district Education Officers to implement Cigarette & Other Tobacco Product Act strictly in and around the educational institutes. She said that recently loose cigarettes/tobacco has been banned in Punjab.
Dr. Rakesh Gupta, State Programme Officer, State Tobacco Control Cell said that in the compliance studies conducted by School of Public Health, PGI Chandigarh in 20 districts of Punjab, compliance to Section 4 of COTPA has been found to be satisfactory in & around educational institutes. Because of the increased awareness in public about the Anti-Tobacco law, State Tobacco Control Cell & District Tobacco Control Cell has been receiving complaints about violation of COTPA & we are trying to resolve them promptly.