Confederation of Indian Industry organised 'Conference on Achieving Excellence in Manufacturing Challenges & Opportunities' today at CII Northern Region Headquarters here today. The conference focused on the challenges before the manufacturing sector. Mr R K Verma, Secretary, Industries & Commerce & Information Technology, Government of Punjab, assured of all support to the industry and invited feedback from the industry leaders at the conference to amend the Industrial policy if required.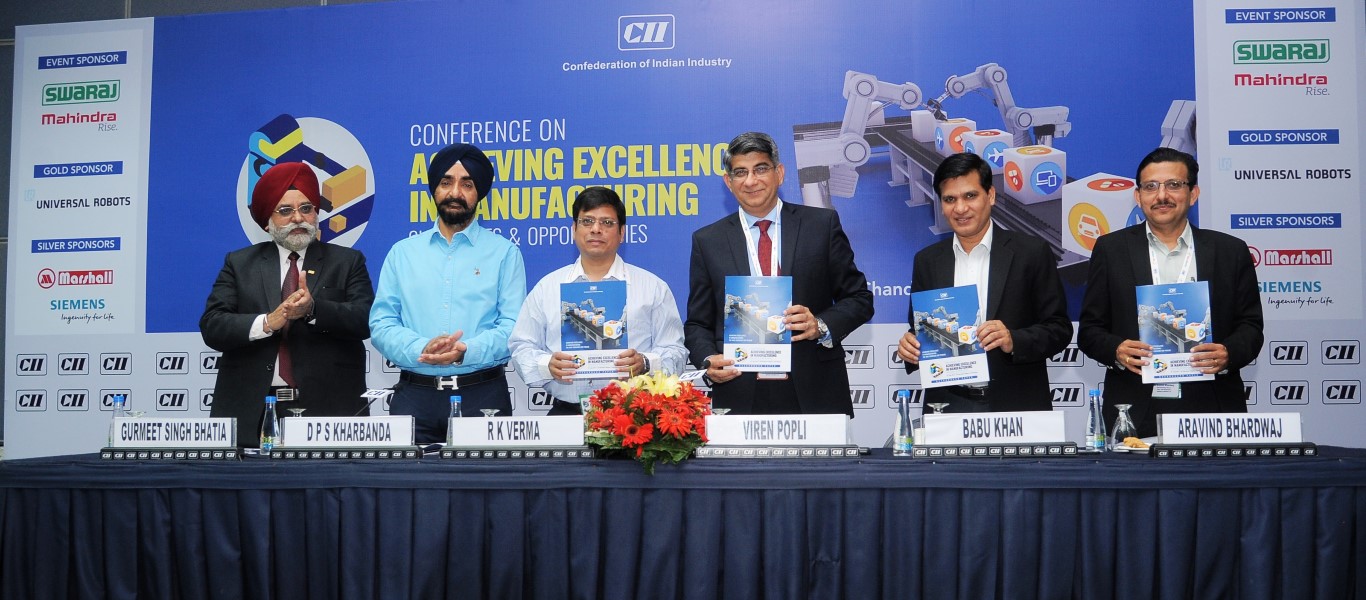 In his special address, Mr R K Verma, Secretary, Industries & Commerce & Information Technology, Government of Punjab, said, "For past three months, the Government of Punjab has been intensely focused on formulating the new Industrial policy for the state in collaboration with Confederation of Indian Industry. The aim is to revamp industrial and manufacturing sector. The draft policy is with CII for feedback from the industry."
"From the previous incentive-focused policies, the state government is more focused on reviving and incentivizing the existing industry. District level single-window systems will be established to facilitate industry units to get all clearances through a designated agency. The policy is focused on providing hassle-free services to the existing as well as future industrial units. For the new industrial policy, the state government has inverted the pyramid by making focus on the MSMEs the priority sector, followed by medium and big enterprises. The state government will provide infrastructure services, mentorship, credit, and guidance to support the small industries on priority."
"The government has adopted a holistic approach to boost industrial growth through the new Industrial Policy.
To ensure that the Industrial Policy is translated into action, the Chief Minister himself will supervise progress of the same through separate implementation units on the status and progress of the Industrial Policy. Feedback from the industry is welcome through CII on any possible lapses. We need to create a culture conducive to nurture start-ups, innovation and entrepreneurship," Verma said.
Mr Viren Popli, Conference Chairman, and Chief Operating Officer, Mahindra & Mahindra Ltd (Swaraj Division) said, "With the advent of technology the manufacturing sector is in a state of flux. Robotics, automation, Green energy solutions are all going to change manufacturing sector of the future. Together we need to get everyone involved in the manufacturing. CII had been given the mandate to prepare sectoral policies in critical areas of Manufacturing, Defence & Aerospace, Education & Skill Development, Food Processing & Renewable Energy. As a part of this exercise and in our interactions with various stakeholders we found that at the core of any thriving economy has been a flourishing manufacturing sector. As the world is moving towards industry 4.0, India and especially Punjab will also have to move with it if Make in India has to succeed and the Industry in this has remain competitive. This will mean that we have to adopt and adapt new technologies not only in our manufacturing but right through our supply chains. Adoptions of advanced manufacturing technologies will be vital to gain competitiveness in cost, speed, innovation and quality."