College ke Tashanbaaz season 2 by RED FM held : This is why RED FM came back with season 2 of College ke Tashanbaaz – ab tera time shuru, presented by Dell, powered by Wildstone, co-powered by Tecno Mobiles and Future cabs, Associate sponspors Mantrin Institute, who was offering language and photography courses while Raj Malhotra IAS academy was directing students for IAS preparations with fitness Partner Anytime Fitness an national chain now in sector 17 Chandigarh and online sponsors are chandigarhcitynews.com and newznew.com.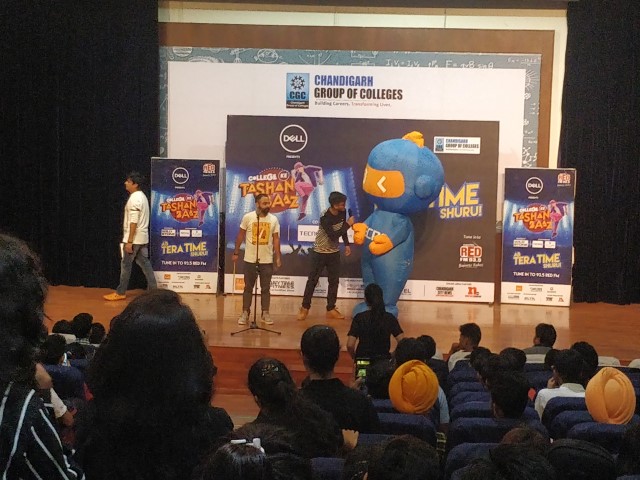 College days are one of the best days of our life, isn't? No worries (other than the assignments), no future stress (other than project deadlines) and no targets (other than passing marks). College life is entirely based on true tashan for no one judges you and you learn to be yourself.
Providing exposure to the students, motivating them to give their best, boosting their moral and recognizing their talent is what CKT is about. This time too, College Ke Tashanbaaz received a warm welcome from the top most colleges of Tricity.
Team 93.5 RED FM, went from one college to another auditioning for the top finalists who they bet will set the finale stage on fire. With the most sensible and uber talented judges, Pankaj Sharma (Cluster Programming Head Red FM), Sukhpal Singh (Marketing Head from Dell) who were accompanied by one of the judges from the college faculty.
College Ke Tashanbaaz Season 2 Colleges
The team went over ten colleges namely, Chitkara University, Chandigarh University, Chandigarh Group of Colleges, Rayat Bahra, Government College of Home Science, ITFT, PEC, Gyan Jyoti, Government College sector 1, Panchkula where the over enthusiastic students took over the stage, giving a rather hard time to the judges to pick three from the lot.
Out of the top thirty semi-finalists from ten different colleges, top ten finalists were filtered for Grand Finale. The final face off was set in the eclectic backdrop of VR Punjab, Mohali on 16th Sep.2018. The top 10 contestants were seen vying for the coveted top slot and got maximum response from the crowd to win, College Ke Tashanbaaz season 2.
The Grand finale was judged by Dhyaanchand fame Vijay Yamla, renowned artist from Coke Studio and Punjabi folk industry, Rani Balbir Kaur, Well renowned theatre performer, Indian Theatre PU Campus and a trained Gatka expert and Deepak Tagger, Choreographer and music director form Punjabi film and music industry.
College Ke Tashanbaaz Season 2 Locations
College ke Tashanbaaz season 1 was won by Firdauss Band of Chandigarh College Group, Landran with their stage breaking performance. This time the trophy was bagged by, Akanksha with her jaw dropping Hoola Hoop performance, that she tamed on her waist non-stop for 5 minutes. The second position was bagged by Anushka from Chandigarh University and third by Chavat boys of the same college.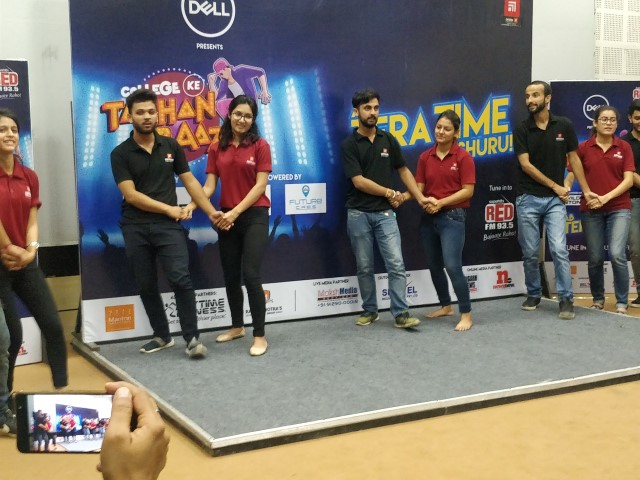 The partners were also very happy with the response they got from the activity, as quoted by Mr Tarun from Dell, 'This is our second year with the activity, team RED gets better each time with delivery and quality of students and our outreach to them… Our New alien ware got a tremendous response from the students as well."
College Ke Tashanbaaz Season 2
Mr Avinash Sharma & Mr Rajat Luthra from Future Cabs reached out to the students with an overwhelming response by way of their MYFUTURE CAB app download.
The night was starlit as Kulwinder Billa, Sandeep Brar and Shivjot performed and made this event magnum opus.
The response from the audience was evident in the hooting, whistling and rounds of claps that never stopped whilst the performances were on. The uber talented RJ's from Red FM took the stage by storm. RJ Anubhav (Morning Number 1), RJ Shatabdi (Drama Queen), RJ Karan (Vellapanti), RJ LAKHA- RISHI (CH935) and RJ Deeksha (Midnight Masala) hosted the entire event throughout. Tune into 93.5 Red FM to get the sassiest feel and music. In case you want to hook on to something you missed, download the RED FM app.