Kejriwal launches 'Mission Punjab' in Moga with 'Master Stroke': The Aam Aadmi Party (AAP) National Convener and Delhi Chief Minister Arvind Kejriwal has made a big announcement to provide Rs 1,000 per month in the account of every woman in Punjab under the world's first and largest women empowerment scheme for women.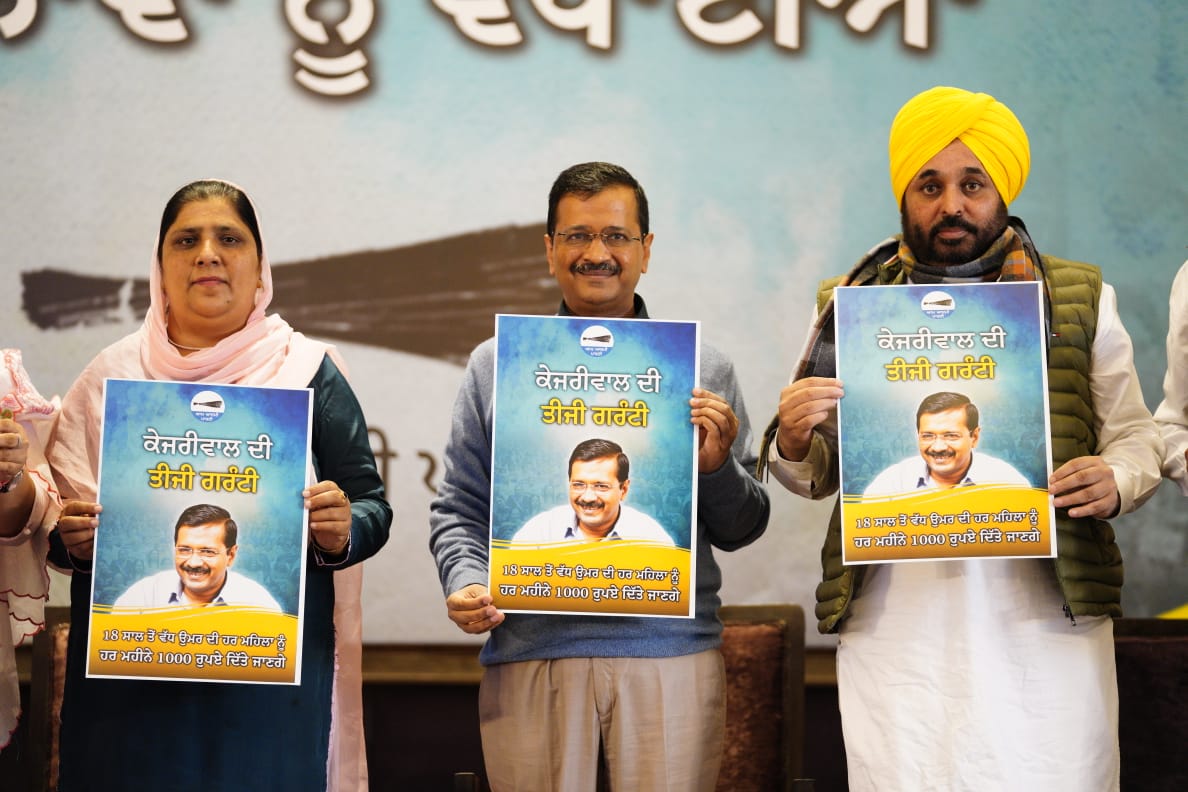 Addressing hundreds of women at the 'Kejriwal di teeji guarantee, Mahilavan nu vadhaiyan' program in Moga on Monday, Arvind Kejriwal said that the Aam Aadmi Party would form the government in Punjab in 2022 and Rs 1,000 (one thousand) monthly will be given with guarantee to all women above 18 years of age by the AAP government.
Arvind Kejriwal, who is on a two-day visit to Punjab, launched the 'Mission Punjab' program for the 2022 General Assembly elections with this unique 'Master Stroke'. He was accompanied by party state president and MP Bhagwant Mann on the stage.
Addressing the women gathered at the venue, Arvind Kejriwal said, "As soon as the AAP government is formed, every daughter above 18 years, sister, mother, daughter-in-law, mother-in-law and grandmother will get Rs 1,000 per month in their accounts. I guarantee it. I have made this decision very thoughtfully and with full calculation, because what Kejriwal says, he does. The government of Delhi and the people of Delhi are witnesses to this."
Kejriwal said, "No doubt, Rs 1,000 is not a huge amount, but with the support of the AAP government, all the mothers and sisters will really get strength and self-respect, because money is very important in everyone's life." He clarified, "This Rs 1,000 to be received by each woman will be different from the monthly old age pension, widow pension, disability pension or dependency pension already received by the women. Similarly, if there are women in a family above 18 years of age including daughter, daughter-in-law, mother-in-law or grandmother; they will all get one thousand rupees each."
Arvind Kejriwal said that while chalking out this plan, a lot of information was gathered about the country and the world, but no government in the world had put money in the accounts of daughters, sisters, mothers-daughter-in-laws separately, every month like this; that is why this scheme being launched with the women of Punjab is the largest women empowerment scheme in the world, which would provide cash benefits to more than one crore women of Punjab.
Kejriwal further said, "I know a lot of daughters who want to go to college, but due to poor financial situation at home their positive dream does not come true, but this scheme will give them a chance to pursue higher education in college. Similarly, mothers and sisters will be able to get the clothes they like with their own money. Mothers will also be able to give love of this money to their daughters who come to their maternal house; without any hesitation."
The AAP National Convener said that the opposition, which has been ruling in turns till date, would be embarrassed by the announcement and would ask the same question, where will the money for this scheme come from? I reiterate in no uncertain terms that there is no shortage of money if governments have sound intentions and sound policies.
The Aam Aadmi Party government in Delhi is a vivid example of this, he asserted. Kejriwal said that before our government was formed, the state treasury of Delhi was in the same condition as that of Punjab. However, today there is a debt free and profitable budget despite the provision of so many public amenities.
Arvind Kejriwal said that the forthcoming elections could improve the direction and condition of Punjab. The future of Punjab can change in the same way, as the AAP government has changed in Delhi. All the pro-people models of Delhi can be implemented in Punjab in a more spectacular way. Therefore, this election must be fought by all together. This time the women in the house will decide who to vote for.
Along with their votes, the ladies, mothers and sisters should get the votes of all the men of the house as well to the Aam Aadmi Party; because this time a chance has to be given to Kejriwal, he added. Like the people had given in Delhi, where so much work was done that after that the rest of the conventional parties were wiped out.
Earlier, AAP Punjab president Bhagwant Mann said that when the house cannot run without the kitchen, then the country cannot run without women's power. In a society, where men and women work together, that country progresses, he said. Mann said that when women will be financially independent, then only things would be better. He said that now women will not have to say that they don't bother to whichever party comes to power; but they have to play a role like Bhagat Singh, Sukhdev, Rajguru and Kartar Singh Sarabha; because if they also had said that they did not bother, then the country would have never got freedom.
On the occasion, Leader of Opposition Harpal Singh Cheema, Punjab Affairs in-charge Jarnail Singh, co-in-charge Raghav Chadha, Deputy Leader of Opposition Saravjit Kaur Manuke, MLA Prof Baljinder Kaur, Women's Wing state president Rajwinder Kaur Thiara, state treasurer Neena Mittal and other party leaders and MLAs were present. Party's Youth Wing state co-president Anmol Gagan Mann officiated the stage.