Organic Community Composters installed at Fortis Hospital Mohali : Fortis Hospital Mohali has become the first hospital in the tricity to Go Green by installing Organic Community Composters that will take care of all their wet waste at source and treat it into Compost.
Fortis Hospital, Mohali has always been at the forefront in sensitizing general public regarding social concerns and in giving back to the society. To further take this initiative forward and to spread awareness regarding alarming rate of pollution, the hospital has come up with "Go Green" initiative. Fortis Hospital has launched the project in collaboration with Chandigarh Daily Dump and installed AAGA, which is an environment-friendly, innovative and aesthetic product that can compost all your wet waste.
Mr. Ashish Bhatia R-COO, N&E, Fortis Healthcare said, "In view of the increasing levels of pollution we must adopt measures which can help control it. At Fortis Healthcare, we are committed to adopting environment-friendly solutions so as to preserve the environment for generations to come. Our collaboration with Chandigarh Daily Dump is a step in this direction.''
He added, ''Composting helps prevent global warming by reducing emissions of methane, a powerful greenhouse gas which gets produced when organic waste decomposes when buried in landfill sites. Along with that, the compost generated controls soil erosion, improves vitamin and mineral content in food, reduces water demands of plants, balances the pH level of soil, it promotes healthy plants; and it reduces the use of pesticides, fungicides and fertilizers, which are extremely harmful to the environment.'' Composting food waste, and returning this compost to fields and gardens, allows us to return nutrients to the soil banks that feed us, said Mr. Bhatia.
Also Read : New Punjabi Film Qismat, Story, Cast, Trailer, Songs, Images, Ammy Virk and Sargun Mehta
Awarded by Prime Minister Narendra Modi under the recently held Swachh Entrepreneurship Awards AAGA, is an environment-friendly, innovative and aesthetic product can convert into compost all the wet kitchen waste including the leftovers.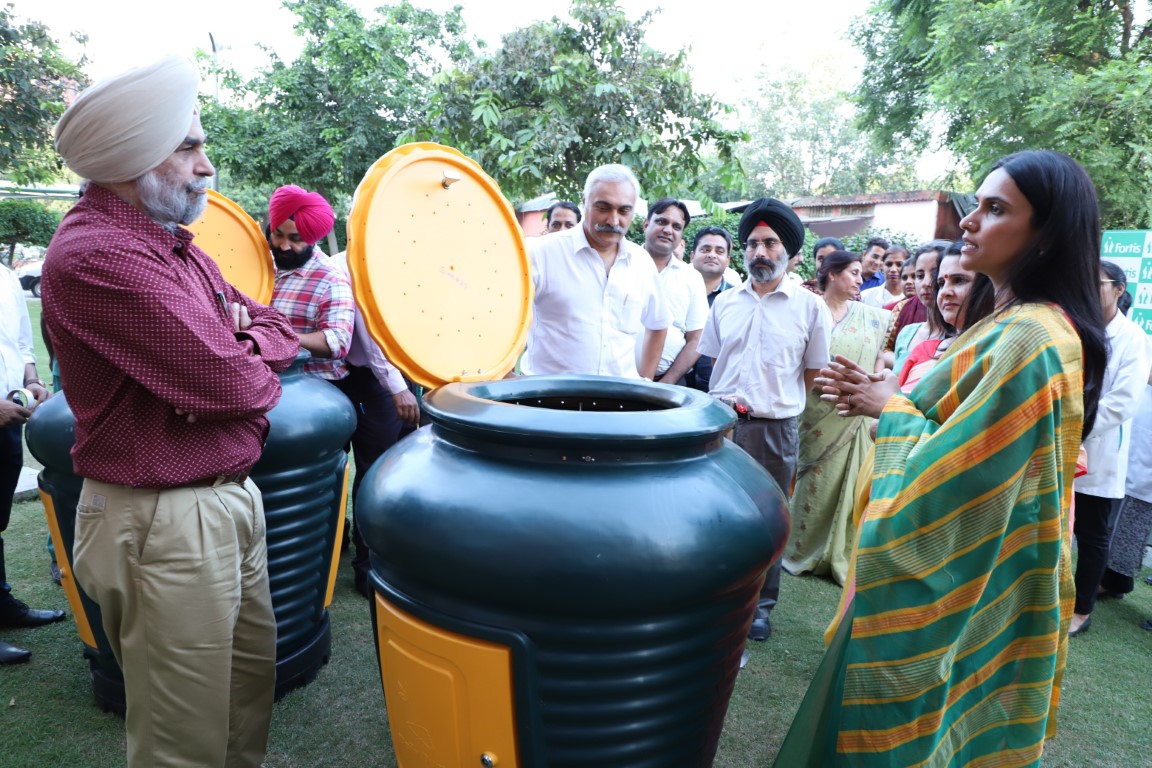 Jyoti Arora and Diksha Suri from Vatama Solutions, providing waste management solutions, are on a mission to create awareness on taking care of the wet waste at source. Their endeavour is to change the public mindset on waste, train people to segregate the waste, recycle it to Black Gold i.e; nutrient rich compost and plough it back it into its source – the Earth.
With more than 1500 installation all over India, they offer affordable, effective, natural and simple solutions, products and services, to manage waste through windrow composting, aerobic composting and pit composting. They strongly feel that an approach of decentralised waste management is the key to make out city into a 7-star rating city.
Also Read : Heart valve replaced without invasive surgery at Fortis Hospital
The salient features of AAGA organic community composters, that it does not cause bad odour, and no power is required. They can be kept indoor or outdoor and are weather-proof. With this solution, Hospital can change the waste into resource at the source and start a journey of making the world a safer, cleaner and cooler place.