Planning To Buy A New Two-Wheeler For Your Daily Needs? Here Is Why You Should Consider TVS Jupiter!: India holds the largest two-wheeler market in the world. However, given the rapid pace and several options available, selecting a two-wheeler for daily needs is daunting. In this regard, the home-grown manufacturer, TVS, offers a class-leading scooter Jupiter to redefine the daily commuting experience at an affordable range.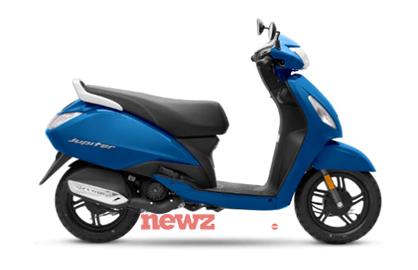 Also Read – Honda Amaze celebrates glorious 10 years in India
Available with 110 cc and 125 cc engines, TVS Jupiter has won the Scooter of the Year title at the Carandbike Awards 2022, courtesy of its advanced features and aesthetics.
Individuals planning to buy TVS Jupiter should obtain third-party two-wheeler insurance to ride it legally on the streets.
Get Proper Insurance
Since its launch, Jupiter has significantly captivated the two-wheeler market of the country. Therefore, if buying a TVS Jupiter, you must take care to protect your investment in it.
Though you can sidestep any legal penalties with a third-party TVS Jupiter insurance policy, securing comprehensive coverage ensures extended financial protection.
Reputed insurance companies extend tailor-made comprehensive two-wheeler insurance policies for TVS Jupiter to cater to diverse requirements. Furthermore, they facilitate an array of add-on covers, zero depreciation covers, engine and gearbox protect covers, tyre covers, etc., to ensure improved coverage.
Also Read – Honda Motorcycle & Scooter India unveils its EV Roadmap and Future Business Direction
5 Reasons To Purchase TVS Jupiter
Here are a few interesting facts about TVS Jupiter that make it an ideal choice for people.
Engine
TVS Jupiter is powered by a 109.7 cc air-cooled engine coupled with advanced EcoThrust Fuel Injection or ETFi technology. This feature ensures 15% better mileage and a comfortable riding experience. Moreover, the motor generates a power of 7.88 PS and a torque of 8.8 Nm.
On the other hand, Jupiter 125 features a peppy and tuned engine of 124.8 cc. It is optimised especially for maximising the city riding experience. Furthermore, the scooter impresses with its optimal handling performance.
Service convenience
Coming to servicing, TVS Jupiter is packed with advanced sensors and control units like On Board Diagnostics (ODB) and Malfunction Indicator Lamp (MIL) to alert the riders on time for service.
The first 5 TVS Jupiter services are free of cost. You can opt for the 1st one after 500 km, the 2nd service after 2500km, the 3rd service after 5000 km, the 4th service after 8500 km and the 5th one after 11500 km. It includes a thorough inspection, adjustment, top-up, replacement, lubrication and other services of crucial components like braking system, tyre, engine oil etc.
However, after that, the estimated maintenance charge of TVS Jupiter for 2 years is as affordable as ₹ 2,557.
Also Read – Buy the best electric bikes and scooters in 2023
Mileage
Mileage is among the crucial factors to consider when looking for two-wheelers to keep the fuel bills in check. TVS Jupiter makes an ideal choice in this context, thanks to its state-of-the-art ignition system.
It offers an impressive mileage of 48 kmpl at a top speed of 95 kmph. Further, it has a fuel tank of 5.1 litres and a reserved capacity of 1.3 litres, ensuring uninterrupted riding fun within the city.
However, though both 110cc and 125cc models feature ETFi technology, the latter offers a better mileage of 55 kmpl at a top speed of 90kmph.
Build quality
TVS Jupiter exhibits segment-first aerodynamic design, a unique blend of style and practicality. It has a metallic front wheel mudguard and side panels, and fibre front body and rear panel are made of fibre. These features significantly help in easy manoeuvrability even on congested roads.
Regarding its safety, TVS Jupiter hosts some of the latest features. For example, it includes Combined Braking System, SideStand Indicator, Traction Control, Slide Control and many more for optimum road safety.
However, despite such advanced configurations, it is susceptible to damages caused due to natural calamities, theft, fire, accidents or collisions. Therefore, while with mandatory third-party coverage, you only safeguard third-party liabilities, comprehensive two-wheeler insurance is ideal for your own two-wheeler damage protection as well.
It will provide financial aid against both third-party and own damages caused in such unavoidable circumstances. Moreover, a few leading insurers allow policy buyers to customise the Insured Declared Value, ensuring extended support in an unfortunate event.
Also Read – How to Select the Best 200cc Bike?
Storage
The 110cc engine Jupiter scooters have an adequate 22-00-litre storage capacity to accommodate knickknacks. In contrast, in the 125cc variants, you will find the largest under-seat storage space of 33 litres, first in its segment. It offers ample space to fit a small full-face helmet or even 2 half-face helmets. It substantially contributes to the budding popularity of TVS Jupiter among daily commuters.
Apart from these, TVS Jupiter has repositioned the fuel tank and placed it under the floorboard. Moreover, the reinforcements around the fuel filler lid are placed on the apron to ensure a low centre of gravity and better accessibility.