Living life with the skill of equanimity & even-sightedness means withholding mind in an all-inclusive state under all circumstances via non-discriminatory intellect. Satyug Darshan Trust started the International Equanimity Olympiad in 2015 with this mission in mind. The aim was to create a passion amongst the students and individuals to become humane by knowing about humanity, morality and ethical values in the form of questions and answers.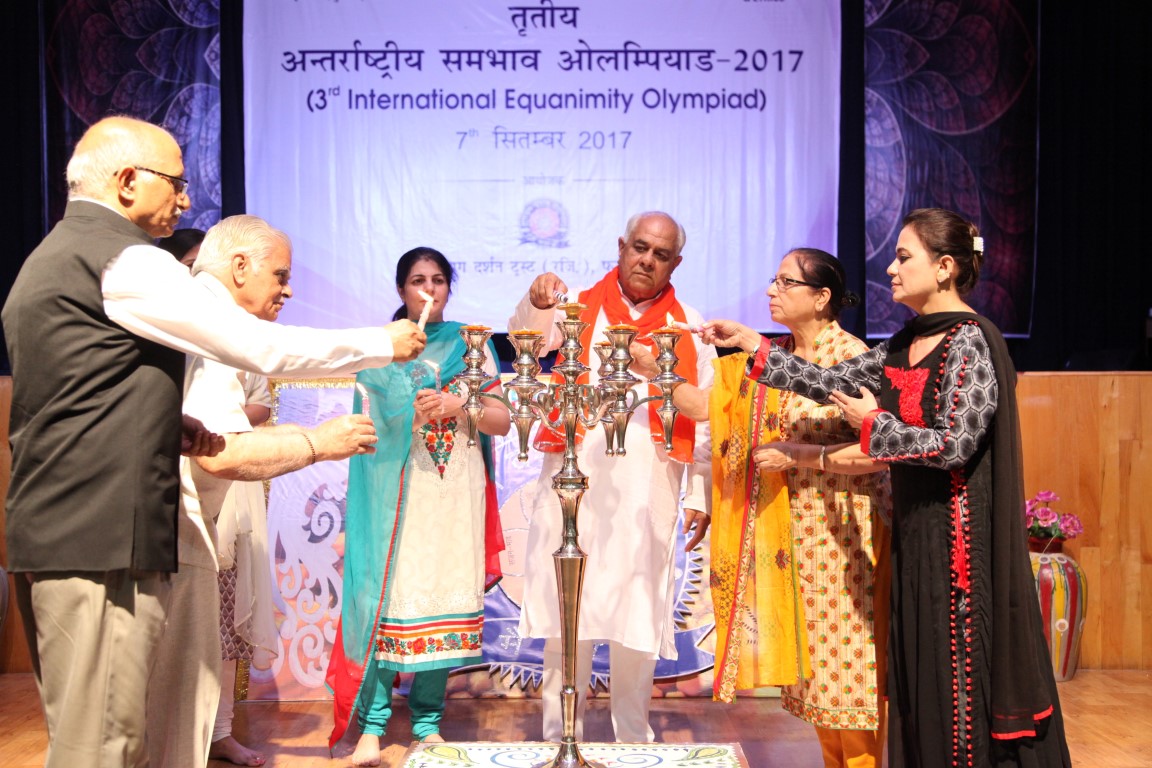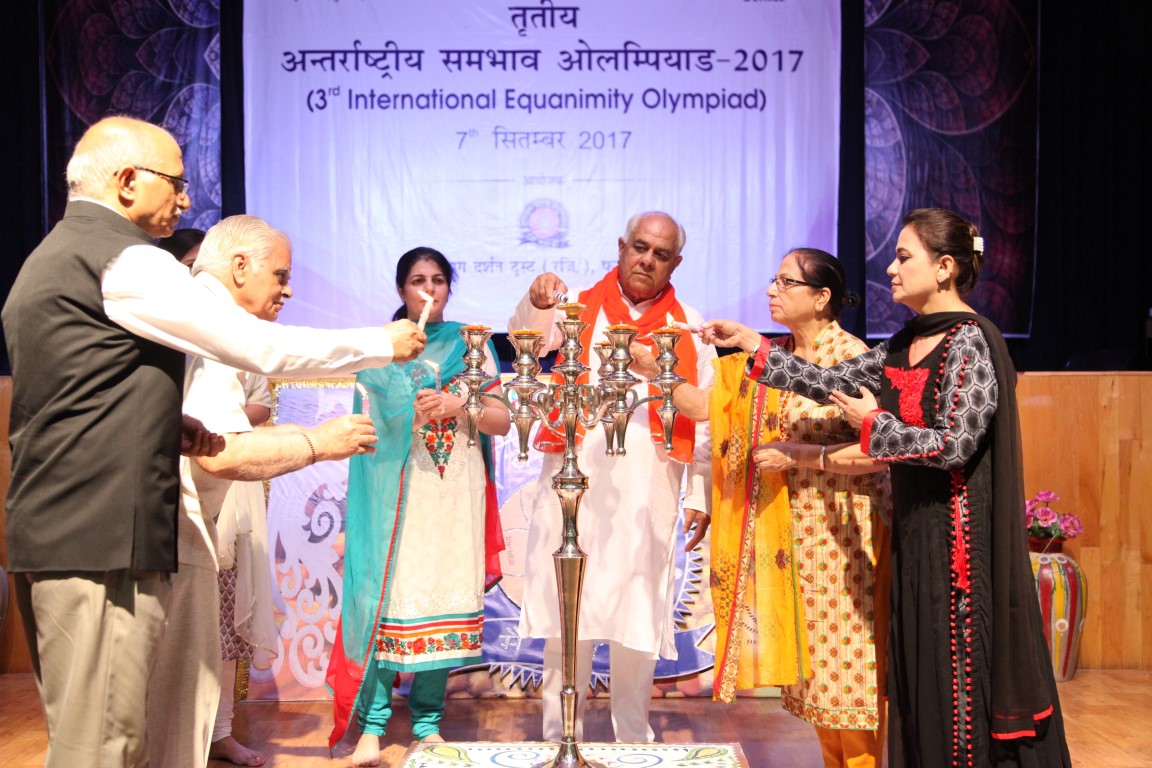 On the occasion of World Equanimity Day, 3rd International Equanimity Olympiad concluded with an enchanting cultural program and award ceremony. This unique endeavour by the Satyug Darshan Trust was this year held at its Vasundhara campus. More than 2000 students, parents, school-principals & teachers as well as Trust members were present at the finale of this international gala. The Olympiad motivates the future citizens to evolve as good human beings by adopting the state of equality. More than 5 lakh students had participated at the first Olympiad in 2015. In the second year, the figures were more than double: 10 lakh 19 thousand students from 2,648 schools participated in this unique competition. This year alone,the Olympiad registered a whopping partnership: 2,800 schools from 20 states of India plus one from Oman, Middle East participated with over 15 lakh  students overall.
International Equanimity Olympiad-2017 had three Modules:
1) Classroom-Based Exam This test was conducted in schools itself where students from class 9 to 12 participated without any discrimination of caste, creed or for that matter the type of education board. The duration of the exam was 45 minutes and was open to students in four languages- Hindi, English, Assamese and Punjabi. It is noteworthy here that no fee was charged for this test conducted for a social cause by Satyug Darshan Trust. Merit Positions: –Topper: Shreyas Jena of Class 10, St Xaviers', Durgapur District Burdhman, West Bengal. He won a Laptop –First Runner-up: Shivam Yadav of Class 9 from Kendriya Vidyalaya, IIT Campus, Kanpur (U.P.). He was awarded a 10-inch Tablet computer –Second Runner-up: Avinash Mishra of class 11 from RN Tagore Inter-College, Bareily (U.P.).He bagged a 7- inches Tablet At fourth position was Deepanshu, class 12 student from Saraswati Vidya Mandir, Moradabad (U.P.) while the fifth rank was scaled by Vinita from class 9 of Saraswati Senior Secondary School, Ballabhgarh, Faridabad. Both of them were given smart phones as a consolation prize. Government Senior Secondary School Kapurthala won the trophy for school with best results. Government Girls Senior Secondary School, Karawal Nagar, Delhi won for the second time in two years the trophy for the highest number of participating students. 3054 girl students participated from this school. Besides the above awards, a trophy + Rs 3100/- or 2100/- or 1100/- were awarded to the top student of the state. Topper from each district was awarded a wrist watch; School topper was prized with a medal & a merit certificate while participation certificates to each student were also distributed.
2) Jail and Rehab-Centres Based Exam Equanimity & even-sightedness perceive equality. Thus, the second module of the test was for the imprisoned ones either in jails or those in rehab-centres. It was conducted there itself. The objective is to propagate message to adopt Equanimity and thus equality to live a meaningful life. The duration of the exam was again 45 minutes and
was conducted in Hindi & English. This year 45 jails participated with more than 10 thousand prisoners. Merit Positions: –First: Chirag from district Jail, Bhiwani Haryana won a 32-inch color TV –Second: Kalki Krishnan from District Jail Noida, (U.P.) who won a smart phone –Third: Omprakash Nishad from Central Jail, Raipur, Chhattisgarh bagged a dinner set Besides, every topper of a particular jail or rehab centre was awarded a wrist watch, second runner-up won a track-suit while the third position was gifted a shirt-trouser. All participants were given appreciation certificates as well.
3) Internet Based Exam Third module of the competition in the Olympiad was conducted via internet so that participants from far flung areas could participate in this unique mission to connect all. 25,000 participants from across the globe took this 30- minutes exam. At the end of the exam, the participants could instantly download their participation certificates.
Addressing the gathering during the Prize Distribution Ceremony, Shri Sajjan Ji, Margdarshak, Satyug Darshan Trust said," Equality must be the basic human nature and attitude. And this is what equanimity and harmony are all about. Under this, emotions and thoughts unite to find solace since this is what energizes bonding and coordination. This forms the basis of behavioural gentleman-ship, facilitation, honesty, cordiality and explicitness. In short, the meaning is that in all states of control of the soul, body and mind the state of equanimity must be attained. It gives an amazing feeling through enlightenment of the soul by shunning the external differences."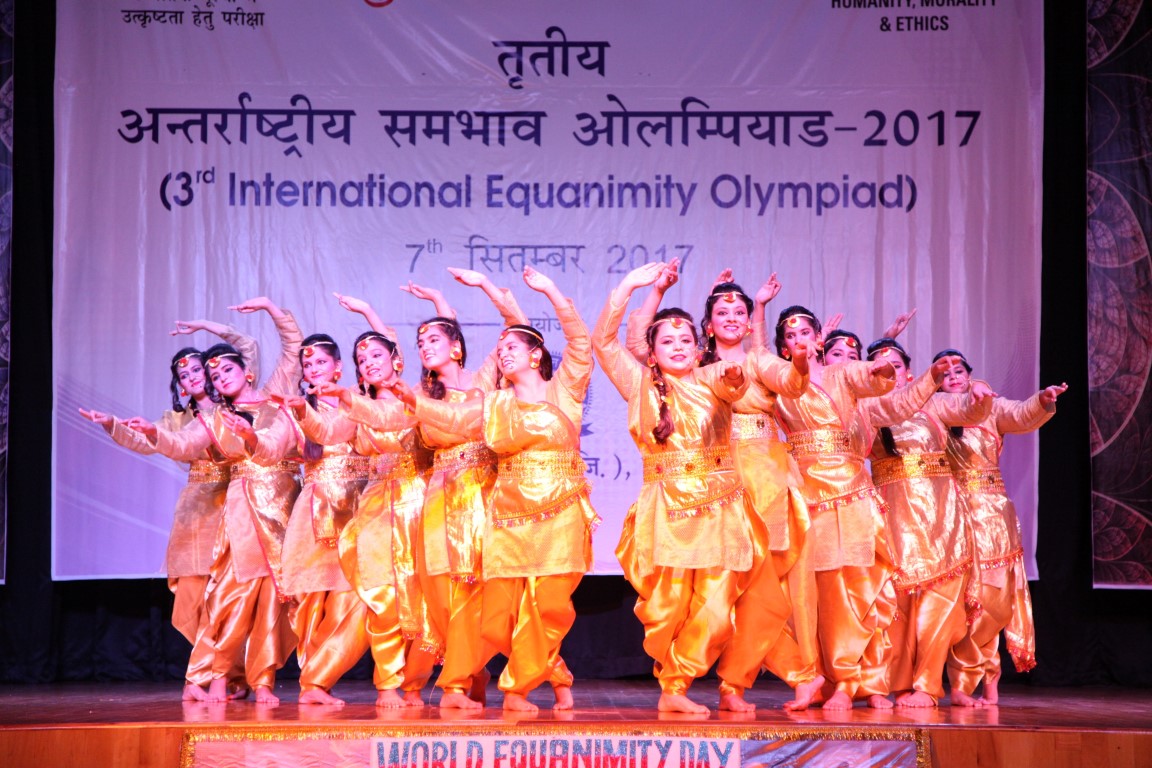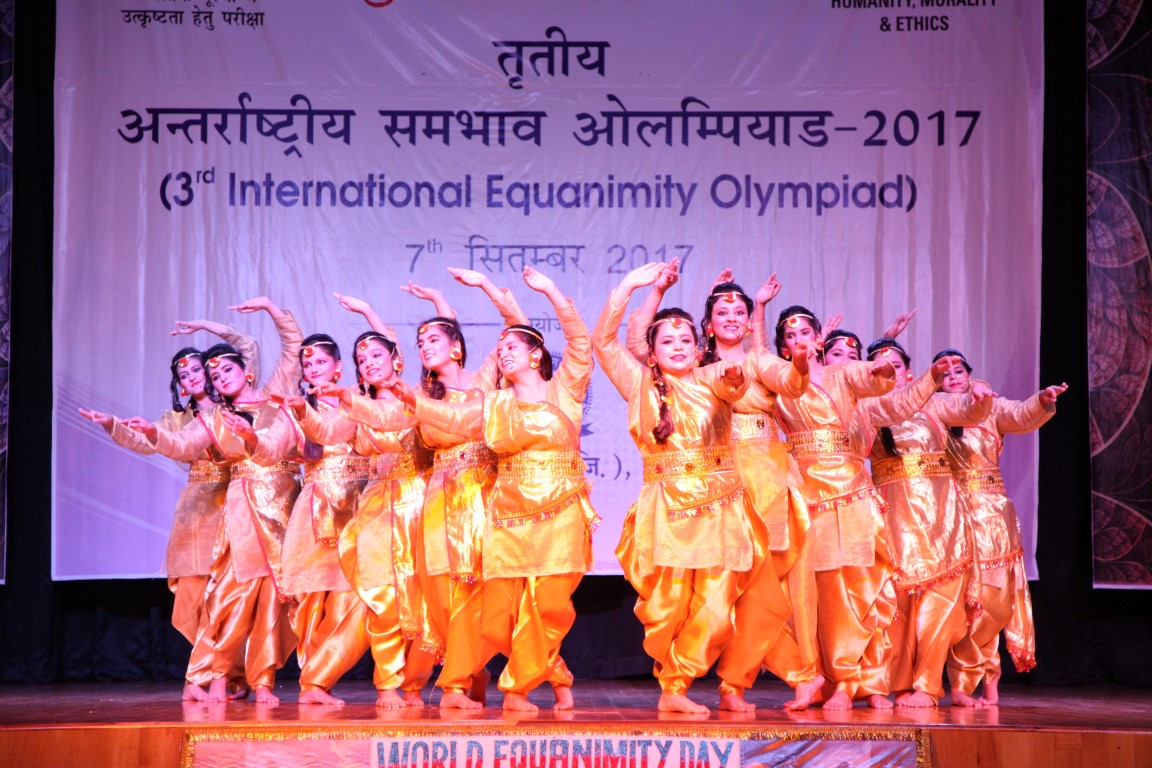 Shri Sajjan Ji requested all those present at the gathering to ensure steps towards equality and humanity so that the entire human race can benefit through it by leading a life of honesty and all-round development. Shri Sajjan Ji requested each one present at this unique mission to connect the next generation to moral values. He said, "International Equanimity Olympiad conducted to uplift the moral value towards humanity, should be taken up as a mission rather than just a yearly program. We took oath in 2013 to conduct such an Olympiad to celebrate World Equanimity Day and we fulfilled our promise over three years…and will continue to." He further added, "Satyug Darshan Trust is ensuring through each exam that not only our young minds in schools
but also those who drifted away from moral values and landed in jail can be brought back into the mainstream society through this mission. This year via this exam and through other mediums this message has reached more than 1.5 crore masses…this will rise in the years to come"
Satyug Darshan Trust thanks the education departments of Delhi, Haryana, Punjab, Chandigarh, Uttar Pradesh, Uttarakhand, Rajasthan, Madhya Pradesh and Assam who made this Olympiad not only reach this grand stage but also make it a great success.
For more details on International Equanimity Olympiad you can log on to  www.equanimityolympiad.in