NeuroGen Brain & Spine Institute offers New Hope To Patients Suffering From Muscular Dystrophy
Chandigarh's Dinbandhu Roy Gets A New Gift Of Life From NeuroGen's Stem Cell Therapy Treatment
NewZNew (Chandigarh) : NerulNavi Mumbai based, NeuroGen Brain and Spine Institute , which is India's leading stem cell therapy cum rehabilitation centre, is offering new hope through stem cell therapy and rehabilitation for patients suffering from this incurable debilitating disease called as Muscular Dystrophy.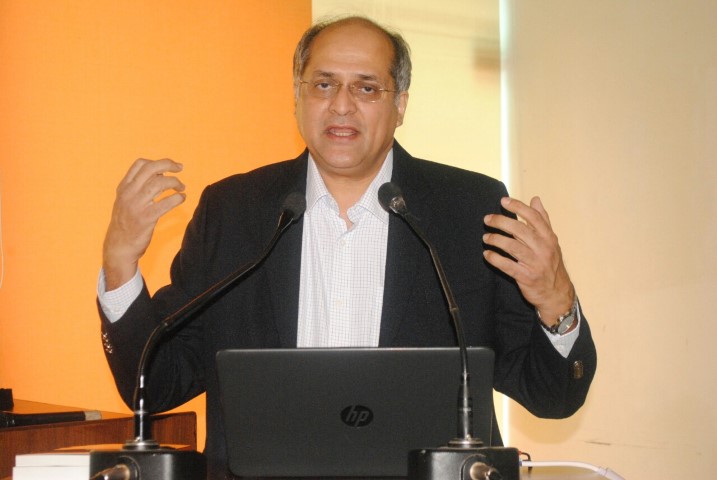 Muscular Dystrophy occurs worldwide, affecting all races. Its incidence varies, as some forms are more common than others. It's the most common form of disease amongst children. The muscular dystrophies are a group of muscle diseases which have three features in common: they are hereditary; they are progressive; and each causes a characteristic, selective pattern of muscle weakness.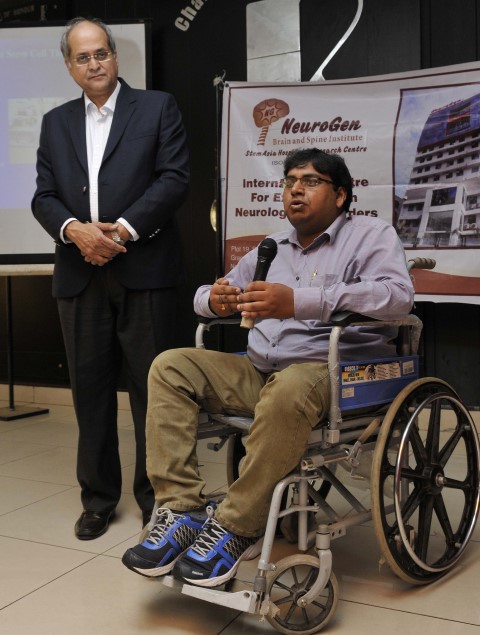 Duchenne muscular dystrophy is the most common fatal genetic disorder diagnosed in childhood, affecting approximately 1 in every 3,500 live male births (about 20,000 new cases each year). Because this is an inherited disorder, there is always a risk of a family history of Duchenne muscular dystrophy.There is no known cure for Duchenne muscular dystrophy. The present treatment options available aims to control the symptoms to improve quality of life. A few drugs are being used to improve the symptoms, but their effects have not yet been proven.
Dr Alok Sharma Professor & Head of Neurosurgery, LTMG Hospital & LTM Medical College, Sion Mumbai and Director NeuroGen Brain & Spine Institutesaid"There is very little awareness about muscular dystrophies amongst our people. In smaller towns and villages, most people have no idea about the disease. Several people even confuse this disease with polio for a long time after the child starts showing the first symptoms. Many even end up trying herbal remedies, thinking they will cure the children".
Muscular dystrophy is a progressive condition, which is severely debilitating and affects the individuals' life span and quality of life. In fact, Duchene muscular dystrophy is termed as an incurable disease that cuts young lives short. The incurable disease causes a progressive degeneration process of the muscles, resulting in decreased mobility, breathing problems, heart failure and, ultimately, a premature death.
Dr NandiniGokulchandran, Deputy Director and Head Medical Services, NeuroGen Brain and Spine Institute said "Duchene Muscular Dystrophy is the most severe form, where the life span of these children is around 20-22 years. It is emotionally, physically and financially draining for the parents of these children. As there is no treatment modality to halt or control the progression of the disease, the family has to see their child whither away. Therefore, we need to broaden our outlook and explore newer treatment strategies, which can atleast control the progression of this disease. Stem cell therapy has emerged as a treatment option in the recent years, which has shown its positive impact on the progressive nature of this disease."
Today we are presenting a case study of Mr.Dinbandhu Roy.  He is a 27 year old male and a known case of Duchenne Muscular Dystrophy. Both, his elder brother and maternal uncle were diagnosed with this incurable genetic disorder, which led Dinbandhu's parents to get him checked at an early age of 5 years and was diagnosed with Duchenne Muscular Dystrophy. Symptoms started with frequent falls, followed by toe walking, difficulty in opening of bottles and tearing papers.
Dinbandhu is a case of Duchene Muscular Dystrophy who would walk and climb stairs independently until he reached to age of 15 – 16 years old. He is a pure example of hope, acceptance, hard work, positive attitude, and determination. Since there is a history of muscular dystrophy in the family Dinbandhu did not really approach many doctors, he believed in the general medications and relied majorly on rehabilitation to improve his condition.
He never let his disorder come in the way of him and his fathers dreams. " My Father and I, both wanted for me to become an engineer, I was always good in academics and so I got admission in a well known engineering college in Sungrur. Also to overcome my disorder I took my hostel room on the top floor, and like many such things I did not let my weakness come in the way of my goals in life " –  SaysDinbandhu. Dinbandhu got placed in BSNL company through college placement in a general quota. His intellegence and confidence was enough for his dream to come true. From the age of 22 years Dinbandhu's condition started deteriorating. He became wheelchair bound, and started facing difficulties in doing transfers, mobility, balancing, and was not able to perform All Day Living activities independently. He required assistance for the major part of his routine work. During the early months of 2015, Dinbandhu visited an orthopedic doctor as he had complaints of knee pain, he came to know about Stem Cell Therapy for Muscular Dystrophy. Dinbandhu came to NeuroGen in December 2015. On examination, his chief complaints were stiffness in calf muscles, incorrect sitting & standing posture;  frequent falls, poor walking and standing balance.
At NeuroGen, Dinbandhu underwent Stem Cell Therapy along with a customized rehabilitation program. The aim of the rehabilitation program was to Improve strength of all the muscles, therapies to increase the strength of the affected areas without fatigue and to increase overall stamina of the patient. He was given exercises that would help him improve his balance, walking, stair climbing, rolling, posture and his grip. These exercises carried out in a systematic pattern with sufficient rest intervals to the patient. Together, the aim of the rehabilitation program was to improve his overall quality of life. The improvements seen in Dinbandhu in 6-9 months are his sitting balance has improved with the help of splints and shoes. He is able to do knee movements.  His standing balance has also improved. The falls have stopped completely and hence he is able to do his rehabilitation in a better manner now. His strength has increased and stamina to perform any activity has also improved. The stiffness in his hands and legs has also reduced minimally.
Dr NandiniGokulchandranadded"Stem cell therapy is a productive and safe tool in the management of patients with muscular dystrophy. It has shown functional as well as radiological improvements in these patients, which enhances their quality of life." Based out of Nerul, Navi Mumbai, NeuroGen Brain & Spine Institute, India's first and only institute that offers not only just StemCell Therapy but also Rehabilitation as well. This 11-storeyed building is a superspeciality hospital and has 51 beds and with special rehabilitation therapy centres. Neurogen BSI has been set up to help patients suffering from incurable neurological disorders, get relief from their symptoms and physical disabilities by the use of stem cell therapy in a safe and effective way. NeuroGen BSI offers stem cell therapy and holistic rehabilitation for Autism and Neurodevelopmental disorders like cerebral palsy, mental retardation, brain stroke, muscular dystrophy, spinal cord injury, head injury, cerebellar ataxia, dementia, motor neuron disease, multiple sclerosis and neuropsychiatric disorders.  Till date, the organization has already successfully treated 4500 patients from over 43countries.
Dr Alok Sharma further concluded saying "For all those millions of patients who had told by us earlier that nothing can be done medically for your illness, we can now say to you with reasonable confidence that with the availability of stem cell therapy and combined with neurorehabilitation, Achhe Din Aane Wale Hain! ".