NewZNew (S A S Nagar) : The Shaheed Udham Singh (SUS) Group of Institutions will host the 3-day 19th Punjab Science Congress from February 7 at SUS Institute of Engineering and Technology, Tangori. The focus would be on "Influence of Science and Technology on Environment and Human Health".
SUS Group Chairman Er. Sukhwinder Singh Sidhu today said the response from scientists and research scholars working in various universities and institutions in Punjab and adjoining areas was encouraging. More than 300 abstracts and full papers have been received so far, he added.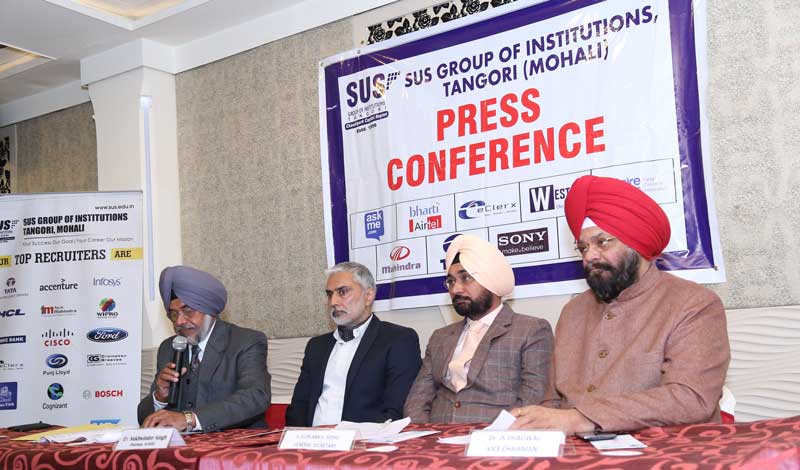 Er. Sidhu said in order to give exposure to the scientists from different disciplines, it had been decided to club abstracts in five different sections dealing with Agricultural Sciences and Food and Sugar Technologies, Biosciences, Biochemistry, Biophysics, Biotechnology, Pure and Applied Chemistry, Pure and Applied Physics, Mathematical Sciences and Nanotechnology, Medical, Veterinary and Pharmaceutical Sciences besides all branches of Engineering & Technology, including Textile Technology and Computational Sciences.
He said the Punjab Academy of Sciences under whose aegis this congress is being held came into being in 1997 with the aim to promote scientific temper and awareness amongst the masses. With more than 1400 Life members, the academy has also conferred its honorary fellowship on one hundred distinguished scientists from India and abroad, all of whom have significantly contributed towards bringing the innovation in Science and Technology. The Academy has been holding "Children Science Congress" for students of 10+2 classes in Punjab since 2002. The academy is also bringing out an annual journal of research namely "Journal of Punjab Academy of Sciences".
He said Dr B.S. Dhillon, Vice-Chancellor, Punjab Agricultural University, Ludhiana, would be conferred the Lifetime Achievement Award by the Academy. In addition to this, the Academy would also confer its fellowships on seven scientists. Desh Bhagat S. Lal Singh Oration Award is being given for the first time in medical profession.
Gurlabh Singh Sidhu, General Secretary, said that the academy had also invited applications for a research award to be given to women with rural background working in the area of Pharmaceutical Sciences, the Best Science Teacher Award, the best Rural Science Teacher (school) Award and for rural students who topped the PSEB matriculation examination, 2015. The oral and poster presentations would be another highlight of the Congress, he said adding that the best poster in each section would be awarded cash prize, certificate and a medal.
He said one of the outstanding sections of the Congress would be the presentation of Young Scientists Award. Students from the Districts of Mohali, Patiala, Fatehgarh Sahib, Ropar and Chandigarh would participate in the Children Science Congress. In order of promote Punjabi language, some of the scientists would present their papers in Punjabi language and the best presenter in Punjabi would be awarded with S. Jawahar Singh and Sardarni Satbachan Kaur young presentation scientist award.
While speaking on the occasion, Dr. J.S Dhaliwal, Vice Chairman, It is pertinent to mention here that SUS Group of Institutions, established in 1996, has emerged as one of the most reliable group in the region imparting quality education, particularly technical education. The group took long strides in the field of education, sports and other allied areas.
SUS Group Prof. HPS Sidhu, Principal and Dr. HS Rose, Director Planning & Monitoring were also present on the occasion.