Tricity couple establishes unique start-up to promote Ayurveda: A tricity based enthusiastic couple has established a unique Ayurveda start-up, Betasys Healthcare, to support the PM's 'Aatmanirbhar Bharat' and Vocal for Local mission, which aims at not only to promote Ayurveda but also popularize the age-old herbs-based pathy.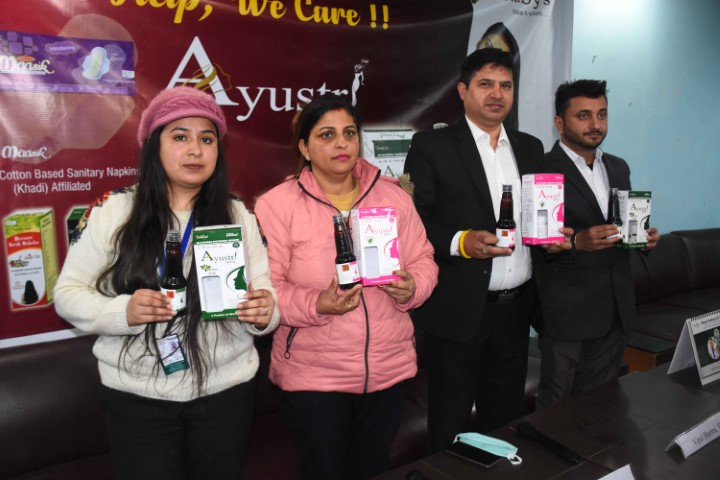 The USP is a good taste of all the formulations. The couple interacted with the media at the press club here. During the press conference, the start-up unveiled 'AyuStri', a special women tonic for menstrual problems , which also improves immunity.
Niraj Bhasin, MD, Betasys Healthcare said, "Allopathic medicines give immediate relief, but do not remove the disease. Whereas Ayurveda has the ability to eliminate any disease from its root. Herbal products are good because they do not harm the body.
Indians did not suffer much from Covid, because of using basic herbs like turmeric, basil in daily life, which strengthen immunity. That is why we focused on Ayurveda products right from the beginning. In pre-Corona time the consumption of Ayurveda products was 15%, which has grown to 90%."

Smridhi Bhasin, Director, Betasys said, "Working women face difficulties during menstruation, for which we have introduced AyuStri tonic, which provides comfort in all physical difficulties. The ingredients involved address all other aspects, including hormonal problems."

While Niraj is from the IT background, Smridhi has studied political science. Their passion for healthcare inspired the couple to work for Ayurveda. They said – the company has designed a full range of products, including turmeric drops, basil drops, liver tonic, joint pain medication, cough syrup and hair treatment etc. The taste of all the products is good.

The size of Ayurveda market in 2018 was Rs 300 billion, which is estimated to reach Rs 710.87 billion by 2024. Niraj gives credit to his entire team for the growth of Betasys, including Vipul Sharma, Dr Neelam, Dr Ashish Sharma and Karishma Bhagat, besides the production, marketing, dispatch, designing, and sales teams.
Products are also available on Amazon, Flipkart, and the company website. All medicines are approved by Ayush and do not cause any side effects. The production unit of Betasys is at Derabassi near Chandigarh.