NewZNew (Chandigarh) : With tourism being the priority area of the present government, there has been an overall effort to give the Tourism Department a makeover. Host of tourism specialists who promote Bengal in the international and domestic markets came on board to advise on the matter during the process. In the first step, West Bengal Tourism revealed its brand new identity- "Experience Bengal". It is noteworthy that from the old identity the word "Beautiful" has been replaced with "Experience."
Addressing a press conference here today, Mr Surajit Bose, Additional Director, West Bengal Tourism Development Corporation (WBTDC) said, "We feels it would be incorrect to identify West Bengal only with its places of attractions. Rather, visiting West Bengal is a total experience for any traveler. Along with mountains, forests and sea, the experience will include quintessential Bengali culture, cuisine, religion, handicraft, history and lifestyle. All these are nowadays considered essential parts of modern Experiential Tourism worldwide."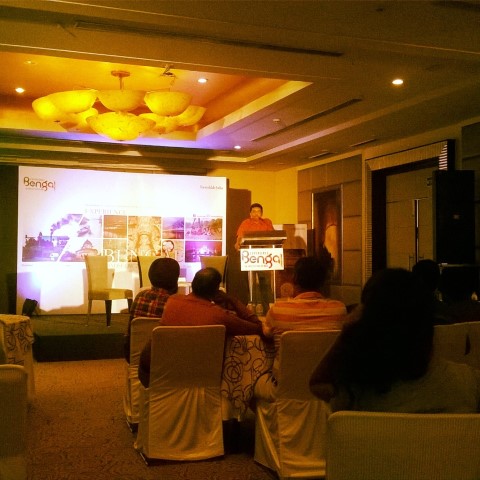 The use of the logo is associated with a new tagline "The Sweetest part of India", not only to remind Bengal's fame and glory for sweets, but to highlight the humility and sweetness of the people in front of the international and domestic tourists. Friendliness and homeliness of the Bengalis are going to be the big USPs of the overall Bengal experience in the coming days.
Mr Bose said, "After launching the new logo, West Bengal Tourism has developed completely new sets of artworks for print and outdoor and FM jingles which are in sync with the new logo. Also, a new promotional film featuring Shah Rukh Khan with shorter edits for television are in the making. Based on these artworks, West Bengal Tourism has undertaken a slew of  promotional activities, which includes  pan India Television and FM campaign, airport branding, hoarding and bus shelters and aggressive publicity through  online and the social media, to reposition the new brand to the domestic and international audience."
Facebook account of West Bengal Tourism has crossed more than 7lakh Likes within a period of 2 years and is currently a shade behind Kerala and Gujarat. Efforts are on to make the official website of the Department  more clutter free, visually appealing and contemporary in look  for synergy. The website in its new form will be launched before the Festival season.
The budgetary allocation for Tourism Department has increased manifold over the years, from a meagre Rs 44 crore in 2011-12 to Rs 257 crore in 2015-16.
To attract more private investment in the hospitality sector, the new West Bengal Incentive Scheme, 2015 has been launched with some special benefits like Floor Area Ratio (FAR)  relaxation and extension of tourism promotion assistance @75% of VAT for 5 years in respect of Mega projects. The projected investment in respect of 44 units which have registered under WBIS, 2008 and WBIS, 2015 combined is around Rs 1234 crores.
New units like Sinclairs  in Kalimpong and Burdwan and Lemon Tree in Purulia have already started their operations. Ambujas are coming up with two new projects, one at Digha and another at Makaibari Tea Estate. Total projected investment for units which have registered under WBIS, 2015, is around Rs 152 crore.
The Government has come up with a Tourism Policy, 2016, which has laid down the action plan for development of tourism in the state. The policy has laid down  6  Primary Tourist Circuits in the state, namely- (i) Darjeeling Himalayas, (ii) Dooars foothills, (iii) Bengal Heritage, (iv) Coastal Bengal, (v) Kolkata and (vi) Sundarbans mangrove, within which 6  Primary Products have been identified.
As the concept of Homestay is gaining ground, Government is in the process of framing a Homestay policy taking all the aspects of registration, booking, services, safety standards etc. Emphasis has been laid on improvement of infrastructure, amenities, development of PPP model and MICE tourism.
An all round initiative and effort is showing in the results. As per the MOT statistics of 2015, West Bengal has scaled up one point to become the 8th preferred destination among the domestic tourists and 6th preferred amongst the international tourists. In 2015, West Bengal recorded a tourist footfall of 7,16,82,950 as against 5,04,15,685 in 2014.