The Chandigarh airport is all set to spread its wings with wide-bodied aircraft, as the runway would be open to 'category 4E aircraft' and will be operational 24*7, by end of March 2019, shared Shri Jayant Sinha, Hon'ble Minister of State for Civil Aviation, Government of India, while addressing at the Conference on "Making India an Aviation Hub: Giving Wings to Aviation Sector in North", organised by Confederation of Indian Industry (CII).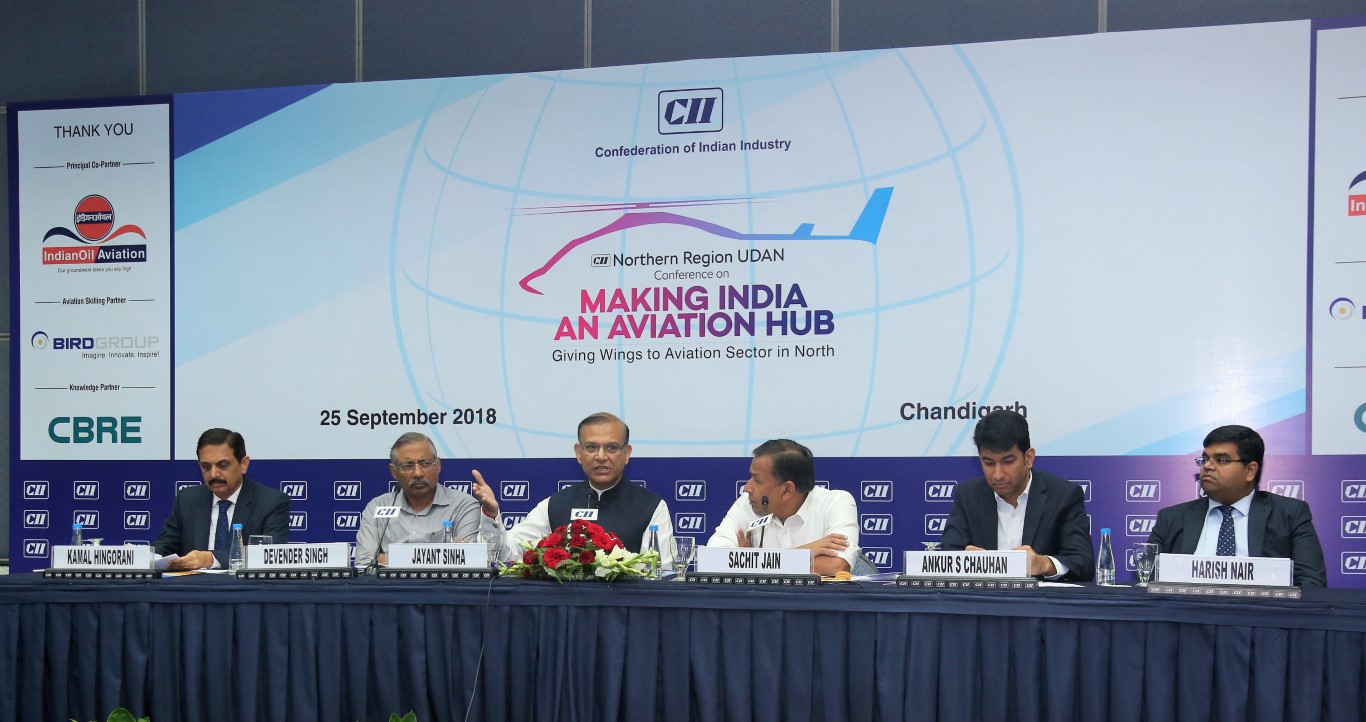 Operation of wide-bodied aircraft would help the city in connecting major international destinations, including USA, Europe, Canada, and the UK.
Shri Jayant Sinha said that the Indian Aviation sector is booming at an unprecedented manner, wherein the domestic trips have witnessed a double digit growth from 6 crores in 2013 to 12 crores in 2017, whereas the overall trips have increased from 10 crores in 2014 to 18 crores in 2018. Talking about the forward looking policies of Government of India, Hon'ble Minister shared that through the National Civil Aviation Policy, the Government of India envisages to achieve 1 billion trips in the coming years.
A new approach towards regulating airports on the yield basis rather than revenue basis has been introduced to promote aviation sector. This will help in keeping the prices in control and will benefit the airline operators and the passengers, he said. Other initiatives such as relaxation in the FDI norms, ease of doing business etc also makes the aviation sector an attractive destination for the investors. Aviation was going to be one of the largest industries in India and would have a multiplier effect on other sectors as well, Hon'ble Minister added.
Aviation sector to have unprecedented growth with multiplier effect across other sectors: Jayant Sinha
Government of India envisages 1 billion passenger trips in the coming 10-15 years: Jayant Sinha
CII organizes Conference on making India an Aviation Hub with focus on North
Sharing the Government of India's plan for infrastructure development, Shri Sinha highlighted that under the NABH NIRMAN programme of Government of India, the Ministry has committed investment of 1 lakh crores in the development and expansion of the new and existing airports to achieve the target of 1 billion trips in a year, which at present is around 200– 250 million passengers. These include Greenfield airports such as Jewar, Hissar, Ludhiana, Pathankot etc. Further, the Government will spend additional Rs 3 billion on the further development of the existing airports, he added.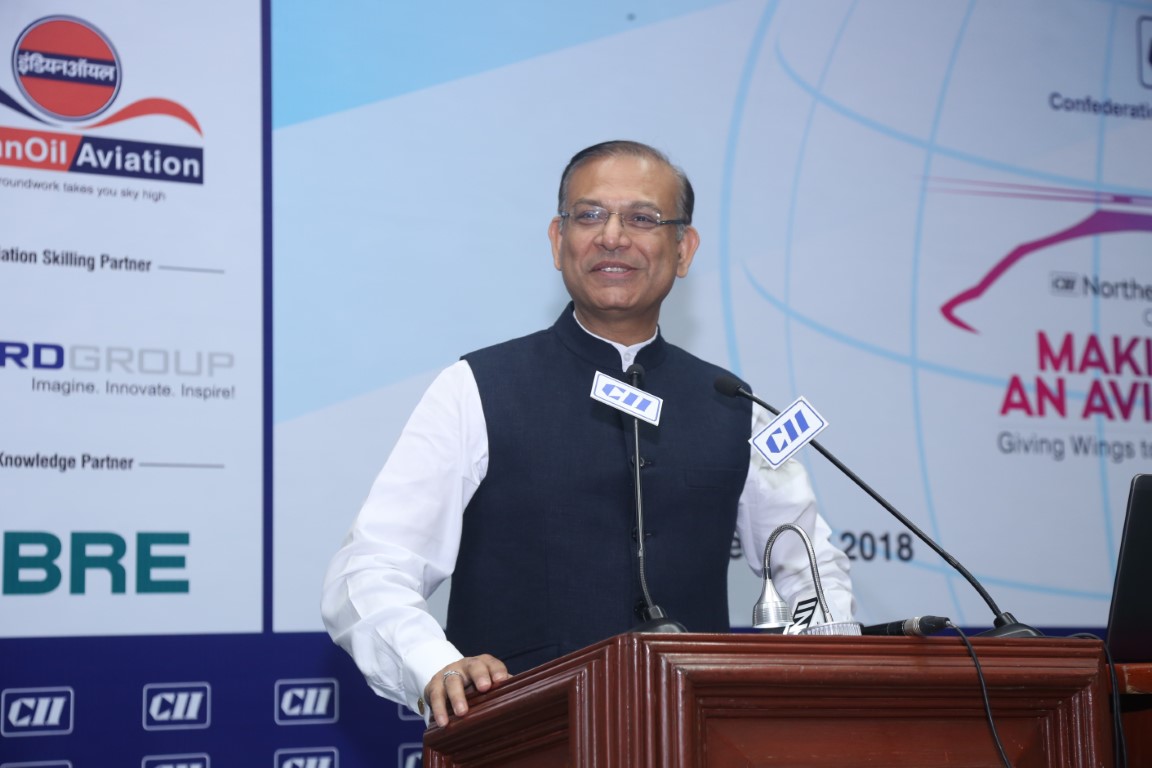 On the development of the aviation sector in Haryana, Mr Devender Singh, Additional Chief Secretary – Industries & Civil Aviation, Government of Haryana shared that Hissar is being developed as an aviation hub in the state, under the RCS-UDAN Scheme. The State Government intends to invite Non Scheduled Operator Permit (NSOP) Holders to operate on mutually acceptable routes from Hisar, with attractive incentives. The State Government has proposed tie up for flights from Hisar-Chandigarh to Shimla, Kullu, Dharamshala etc. The State Government also envisages to set up Small scale MRO, Fixed base operations (FBO), Defence Manufacturing and Defence MRO as part of the Phase II expansion of the Hissar Airport, Mr Singh expressed.
Mr Tejveer Singh, Principal Secretary to Hon'ble Chief Minister & Secretary- Civil Aviation, Government of Punjab, highlighted that in the present scenario, the Air force has liberalized its policies and is now open to allowing airports for domestic and commercial use to be established along the air field. On the Punjab Aviation scenario, Mr Singh, highlighted that both Ludhiana and Pathankot are being developed as upcoming and fully functional airports in Punjab. Now Halwara being development as an upcoming airport where land identification has already been done and it is expected that in the coming 3 years' time, the airport will be developed for commercial use. Chandigarh Airport is also being made fully operational and it is expected that more flights, particularly the international flights will be operation from Chandigarh, he added.
On the regional connectivity, Mr Sachit Jain, Chairman, CII Northern Region & Vice Chairman and Managing Director, Vardhaman Special Steels Ltd shared that Chandigarh needs to be developed and promoted as Regional Hub for air connectivity in North. Mr Jain advocated that in order to position Chandigarh as a Regional Hub, it should be included under the Open Sky Treaty with ASEAN Countries.  For the Airline Operators, Mr Jain suggested that there should be enhanced regional and international connectivity from Chandigarh.
Also Read : Working Women, Urban Lifestyle more likely to develop Breast Cancer
Mr Kamal Hingorani, Member, CII National Committee on Civil Aviation & Chief Customer Service Officer, Spicejet Ltd opined that the India's aviation industry is largely untapped with huge growth opportunities, considering that air transport is still expensive for majority of the country's population, of which nearly 40 per cent is the upwardly mobile middle class. He suggested that the industry stakeholders should engage and collaborate with policy makers to implement efficient and rational decisions that would boost India's civil aviation industry. With the right policies and relentless focus on quality, cost and passenger interest, India would be well placed to achieve its vision of becoming the third-largest aviation market by 2025, he expressed.
Mr Kishore Jayaraman, President, India & South Asia, Rolls – Royce, was of the opinion that infrastructure and governance have to go hand in hand to promote the ecosystem for the aviation sector. Although in terms of demand And supply, the gap has reduced, but we need supportive ecosystem like city planning and better infrastructure as well, he added.
Also Read : Rotary Club of Chandigarh conferred the Rotary Nation Builders Award 2018
Sharing his thoughts on the UDAN Scheme, Mr Vishok Mansigh, CEO, TrueJET Airlines expressed that UDAN is the step in the right direction, as it is managing and changing the social and economic life of the hinterland of India. It is expected that the aviation will transform India as has been done by railways, he added.
This Conference facilitated in better understanding amongst the various stakeholders and players in the broader aviation and aerospace industry. This initiative is one of the first in Northern Region and will help in creating better synergies between various players in the sector, said Mr Sanjiv Kapoor, Chief Strategy and Commercial Officer, Vistara.
The Conference was attended by over 125 CXOs representing Aviation Companies, Non- Scheduled Operators, Heli- Taxi Service Providers, Ground Handling & Logistics Companies, Air Freight Providers, MRO Service Providers, Airport Infrastructure Developers, Aircraft & Component Manufacturers, Aviation Skill Academies, Tour Operators and Aviation Industry Professionals, in addition to the policy makers.