Davinderjeet Singh Laddi Dhos joins AAP along with hundreds of associates: The Aam Aadmi Party (AAP) got a major boost on Friday when Punjab Youth Congress leader Davinderjeet Singh Laddi Dhos from Dharamkot constituency, BJP leader Kewal Singh Brar and ABVP leader Harmandeep Mita joined the party.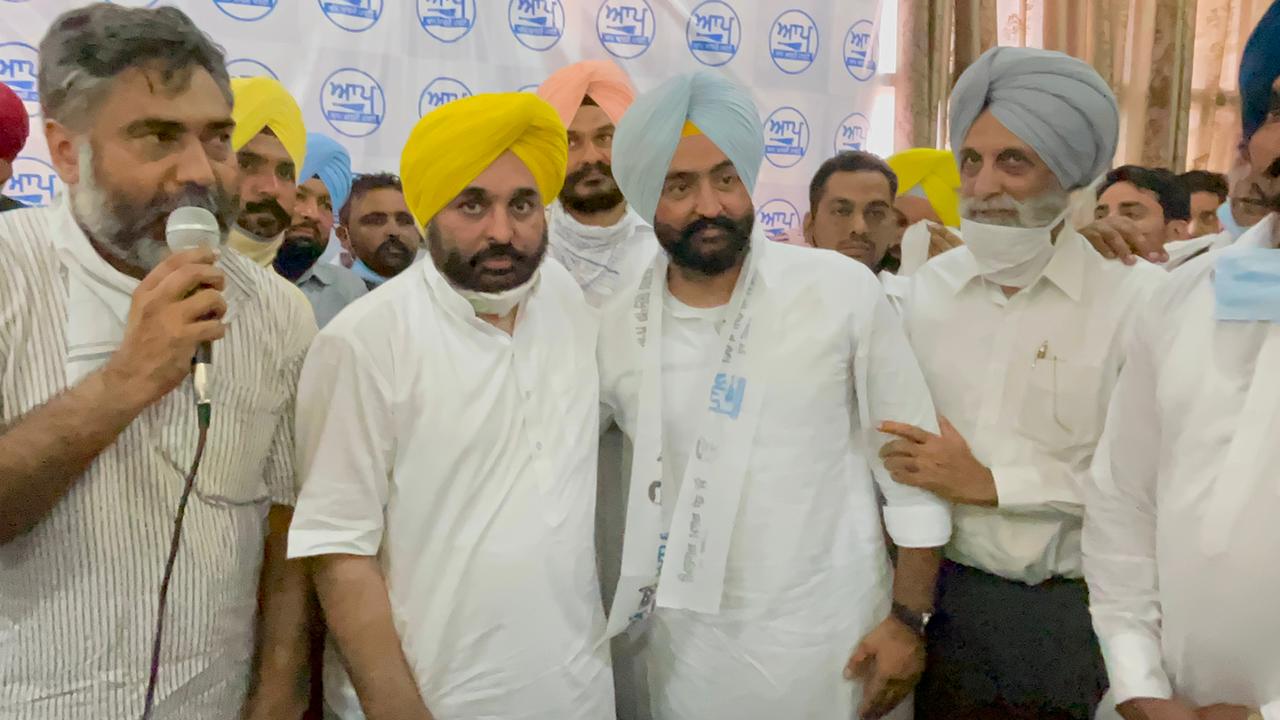 AAP's state president and MP Bhagwant Mann formally inducted and welcomed the leaders into the party fold. Welcoming Davinderjeet Singh Laddi Dhos, Bhagwant Mann said that Davinderjeet Singh is a well known personality of the area, whose father Kuldeep Singh Dhos had been a member of Shiromani Gurdwara Parbandhak Committee (SGPC) and had also contested the Assembly elections from the PPP in 2012.
He joined the Aam Aadmi Party along with hundreds of associates, sarpanches, panches and dignitaries.
Mann further said that Kewal Singh Brar, co-convener of BJP Education Cell from Moga and Harmandeep Mita, district general secretary of BJP's Student Wing ABVP had also joined the AAP to serve Punjab. Mann said that the people of Punjab wanted a change of government in the state and the people would definitely give a chance to the Aam Aadmi Party in the 2022 elections to serve the state.
He said that due to the incompetence of Captain Amarinder Singh and Parkash Singh Badal, Punjab today was faltering like a boat without a sailor. "The state bureaucracy is rampantly looting the people sitting in the offices. The situation in Punjab is such that the people are sitting on dharnas and Captain is enjoying in the palaces," he added.
Mann said that the Chief Minister did not see the plight of the farmers, laborers, unemployed youth, sanitation workers and employees, who were struggling on the streets. He said that like the rule of the Badals, even today the morale of 'Chhita' traders and mafia rule was high and the law and order situation in the state was deteriorating.
"The files of corruption spread by the Congress in Punjab have been handed over to the Congress High Command in which Captain Amarinder Singh himself admitted that 50% of the Punjab government was corrupt," he added.
The AAP leader demanded the Chief Minister, not only to use the files of the corrupt Congressmen to intimidate the Ministers and MLAs, but also to expose their names so that the people of Punjab would come to know about the corrupts.
On the occasion, party's BC Wing state president and Jalalabad constituency incharge Jagdeep Singh Goldy Kamboj, district president Harmanjit Singh, Moga constituency incharge Navdeep Sangha, Bagha Purana constituency incharge Amritpal Singh, Trade Wing joint secretary Sanjeev Kochhar, former district president Naseeb Singh Bawa, among other senior leaders were present.